Phantom Limb Pain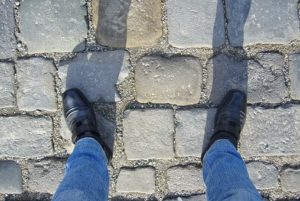 This is a story of how I help a memeber of my family with "Phantom Limb Pain"
Hi, my name is Adam Cowming and I'm a fully qualified hypnotherapist and this is my blog to tell you about some of the cases I have seen and people I've helped. I hope it will help other therapists and people who are interested in the power of the mind.
My Dads cousin Ken has been suffering from Phantom limb pain and asked for my help so of course being family I said yes.  So what is a Phantom limb? A phantom limb is the result of a limb that has been amputated. The person still feels the limb and in this case, pain in the limb. It's important to first find if the (Phantom) limb is O.K. and not for example twisted in an odd position. If it is mirror therapy can be very effective in some cases. Mirror therapy has been widely used in the USA to great affect but still not so well know in the U.K with results being disappointing but I believe more research is being done by V. S. Ramachandran and D. Rogers-Ramachandran who are brilliant neurologists. Also the results are based on information Ken was told by the doctors in NHS cases and not private practices. The more we understand the better the science, theory and  technique will develop.
Here is a link to a series of lectures on BBC Radio 4 on the subject
http://www.bbc.co.uk/programmes/p00ghvck
Ken had Phantom Limb Pain and wanted to try hypnotherapy.
Here is how the session went. I've only outlined the important parts of the session to make it easier to read.
I first did a very gentle induction and deepener to relax Ken and also to allow the unconscious part of his mind to come forward. I also set up a safe anchor in case of any abreaction. I decided to use a technique called parts therapy to start with.  Parts therapy basically allows me to speak direct to the part of the unconscious mind that controls the limb. I set up a signal on each hand, a finger for yes and a finger for no (ideo – motor finger signals), so the unconscious part of the mind could communicate with me by lifting or moving the fingers. Always allow the mind to choose which and fingers to use, never force your will on it.
I asked the "Part" if it knew the leg had been amputated and was no longer there, it moved the finger for no. This what I hoped would happen as my thoughts on it were that maybe the "Part" was still doing its job because the old limb had  lost the blood circulation, so I think it may be trying to heal the leg as it was before it was amputated and needed updating to acknowledge the limb has gone and give the part a new job. I think the part maybe still doing its job because the old limb had a blood clot, so I think it may be trying to heal the leg as it was before it was amputated and needs updating to acknowledge the limb has gone and give the part a new job
I then asked if it would like some new information I had for in concerning the limb, it signalled yes. I told the part the leg was now missing and that if it would like to continue to help Ken I have a more important job for it to do, again it signalled yes it was happy to take on this new job.
I first wanted the "Part" to see the limb had gone. I had asked Ken to take his prosthetic leg off before the start of the session. I told the part that I was going to count to 3 and on 3 I want it to open Ken's eyes and see that the limb had been amputated and was not longer there. So on 3 Ken opened his eyes and I asked the part to look to where the leg had been amputated, I then asked for the part to close the eyes and take on this new information. I asked if the part now understood the leg had gone and again it said yes.
Now in hypnosis we call it fractionation when you get the person to open their eyes then to close them and the reason for this is person goes deeper into hypnosis but that is not what happened to Ken as the he didn't consciously open his eyes but the unconscious "Part" did and he was not aware of that during or after the session and was surprised when I explained what had happened. After Ken closed his eyes I again asked the "Part" if it saw the leg had gone and now understood that there was no need for any pain in a leg that wasn't there. It signaled yes again.
The idea to open the eyes had come from a discussion I had with Nick Davies who trained me to be a hypnotherapist (www.wsoh.co.uk) and we both thought it was a great idea if not a little different, we were both unsure if it would work but after the session Ken said he didn't have any knowledge of his eyes opening during the session. So the part saw the missing leg not the conscious mind of Ken, it was a great move!!!
I then gave the part a new job of stopping any future pain to the phantom limb to which the part said it was happy to take on this new role, again also saying that if the body needs Ken to look at the leg that is still there and healthy to let him know because pain is the bodies natural signal that something is wrong so I don't want to stop that happening. It also agreed to this.
I then told Ken I was going to lift his arm out in front of him (arm catalepsy) and for the arm to support itself. I then asked the unconscious part to go and update itself with all the new information and when it had successfully done this to allow the arm to drop nice and gently back into Ken's lap, this took around about 30 seconds.
I then did some basic pain relieve with him and anchored a imaginary pain controller on his hand by squeezing his thumb and finger together so his body would release a natural and safe dose of pain relief. I also told him that to have this controller was a great responsibility not to be miss used and only to be used when it is necessary .
I then bought Ken out of trance, he said he felt wonderfully relax and that he know the limb somehow felt different about the old Phantom Limb Pain.
I advised Ken to now go back to his GP and explain that he had under gone a Hypnotherapy session using the "Parts Therapy Technique" and that we were confident the brain has now all the new information it needs. I have also agreed to be contacted by the GP if she has any questions about the session. Ken said he now wanted to reduce the pain killers he was on WITH the GP advice and guidance to see if the pain had gone. I will wait for the results from Ken and keep you updated to his progress on this journey but from a personal point of view I am confident that I have helped Ken remove all of the problems he had.
I hope you enjoyed and learnt a little from this post and I will continue to write and tell you about the interesting cases and also about the different therapies I use for different things
I was waiting before writing this to find out how effective the session has been for Ken and I'm please to report the following that Ken is very please with the progress so far.
Note from Ken "Pleased to report definitely some improvement this week with the phantom problem so will see what happens next week and will let you know"
To book an appointment please go HERE
Adam Cowming CPNLP,CMH ,HPD
Beautiful Life Hypnotherapy