Relax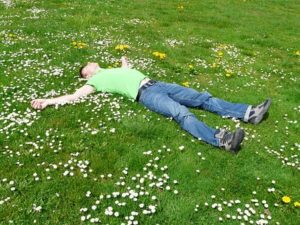 What does the word relax mean to you?
Hello again,
Sorry for the delay with this blog but i've been very busy with my therapy business plus I've had a holiday as well. Enjoy.
With modern lives so busy and people rushing around so much these days I'm finding increasing numbers of clients coming to see me because of stress and stress/anxiety related issues such as IBS (Irritable Bowel Syndrome), so what the answer?
Learning to slow down a bit will help, as well as other things such things as relaxation techniques. People just don't seem to take any time for themselves, then wonder why they are tired and feeling washed out. The body and mind needed a certain amount of time to rest and relax as well apart from sleep.
I tell clients to take 10 to 15 minutes a day to learn to relax and take time out for themselves. It is important not to fall asleep during this time out so the body learns it can relax without falling to sleep. Try this easy exercise.
Find somewhere comfortable where you will not be disturbed during the exercise, if necessary tell who you live with family etc than you don't want to be disturbed and to be considerate to your needs. Lie down or sit in a comfy chair, place your hands on your lower stomach. Breathe in through your nose so that your stomach rises, this mean than you will be breathing from the bottom of the lungs not the top. Hold the breath for a couple of seconds then slowly breathe out. Repeat these 3 or 4 times then allow your breathing to go back to normal. Concentrate on different parts of the body allowing these to relax one by one starting with the top of your head and working all the way down to the tips of your toes. Image you are in a wonderfully relaxing a safe place, I like to think of myself lying on a beach sunbathing. Just allow yourself 10 to 15 minutes of relaxing this way every day making part of your lifestyle. Try not to fall asleep as relaxation is different to sleep so you don't want to associate relaxing with going to sleep although you may find it hard not to drop off at first.
Learn to relax this way is very beneficial to mental health and can help with a whole range of issues even helping people out of depression, helping with anxiety and stress. You can even do a mini relaxation for a few minutes if you not got 15 minutes, a little is better than nothing.
This is a wonderfully easy and powerful exercise that anyone can do at home or even in their lunch break at work.
Ask yourself are you worth 15 minutes a day?
Get my free "Stress Buster" Mp3 audio here
Adam Cowming
Website  www.blhypnotherapy.co.uk