"Coventry Psychotherapy & Hypnotherapy Conference 2019"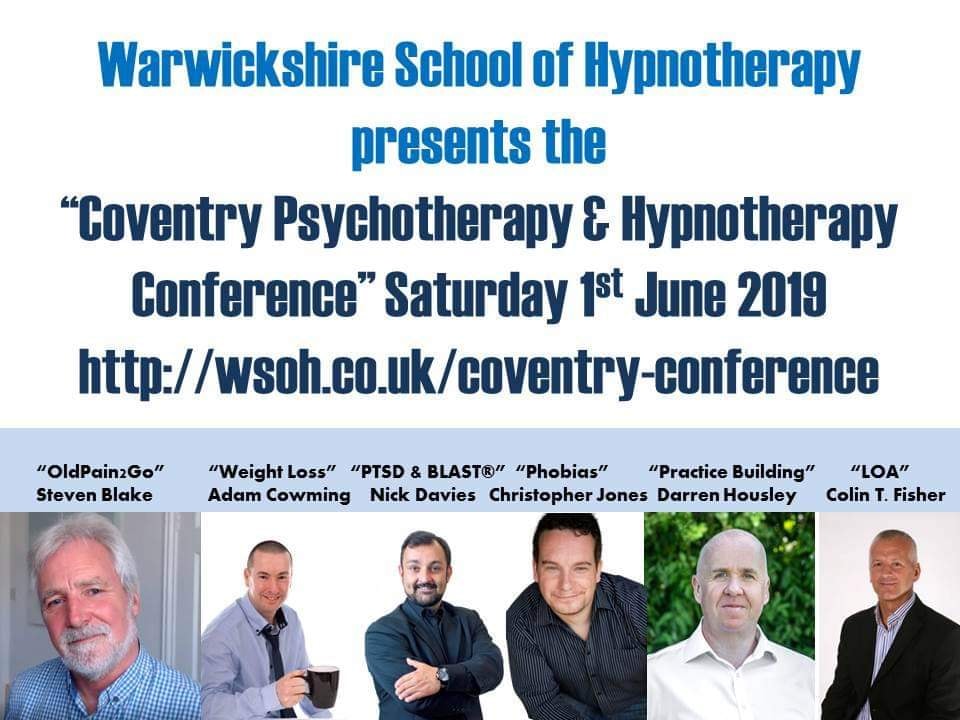 I thought I'd let you know my experience of speaking at this conference and the other speakers at the event set up by Nick Davies of The Warwickshire School of Hypnotherapy.
So the first speaker of the day was who I will describe as a real gentleman with a wealth of knowledge. Steven Blake who talked about his methods of dealing with pain and his system called "Oldpain2go".
I'd heard really good things and was certainly intrigued by the method and thoughts behind it, I wasn't disappointed. I loved the approach and application of the techniques which was demonstrated by Steven in a master class of elegance and skill. Steven has a real passion for helping people and that shone through in his presentation. I will certainly be training in this, I was up next and what a tough act to follow!
I spoke about my approach and thoughts on "Weight Management" using my unique approach which is a little different from tradition. I shared my finding on "What, How and Why" people eat and also the relation to digesting information going into Transactional Analysis, Metaphor work and the provocative style I use with some more challenging clients.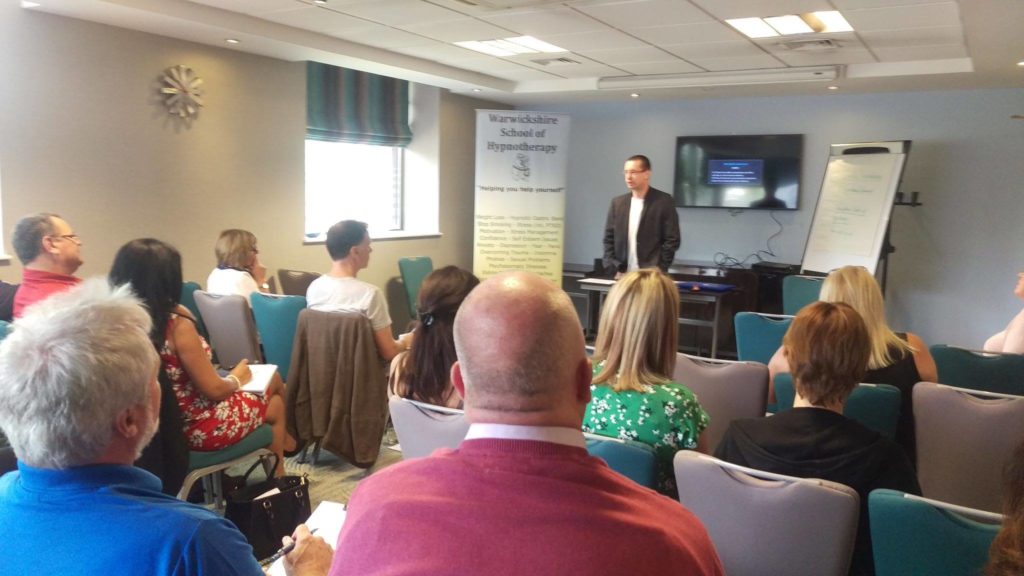 I really enjoyed the experience and hope the other delegates and speakers enjoyed my contribution and challenging methods.
The next speaker was someone I know, my friend, mentor, supervisor and organiser of the conference, Nick Davies.
Nick presentation was on PTSD and Trauma which he has featured in many media publications and radio. He is known as "The PTSD Whisper" and is in my opinion the go to guy on this subject.
Nick has all the neurology to back up his BLAST® Technique and his presenting style is very polished he is very easy to listen to also eager to answer any questions on the subject. His passion is clear and knowledge is outstanding. Nick is world class and once again proved it with a demonstration of his skill with people. I never fail to learn when around Nick.
Next up was Christopher Paul Jones also known as "The Breakthrough Expert" and also has been featured on TV and media and is very charismatic.
Christopher spoke on fears and phobia's and has a deep knowledge on the subject interacting with the audience and sharing some great tips and tricks to deal with any issues client have. The presentation was slick and professional incorporating a real personal story of his fear of flying and how he overcame this. Chris also did a live demo which was very good helping someone with a fear of dogs.
Big Darren Housley was next talking on more of the business side of therapy, Practice Building. Darren is probably the busiest therapist I know seeing up to 30 clients a week in Yorkshire. Darren's presentation was delivered with humour and knowledge. This is an area which is neglected by some therapist so the information was of great value and I think we all learned a great deal from it. It's great to see a person with a passion for helping as many people as he can succeed and also so free with his inside knowledge so other can gain from that. He held nothing back and was very open and honest with any questions from the delegates and another true gent of this profession.
Last but not least was Colin T Fisher someone new to me and talking on the subject "Law of Attraction". I must admit I used to be a little sceptical on this subject however I always approach anything with an open mind. Colin certain has a lot of energy when presenting and had us all in the right vibe. He presentation talked a lot about what he thought was missing from a lot of LOA stuff and I must admit I liked him from the off. I'm certainly going to put into practice what he taught as a lot of it was good advice that made sense, none of the fluffy nonsense, it also helped he is a very good business man so lives in the real world and shared his successes and failures with us. He is also was a bloody nice bloke.
All in all the day was a great success. I look forward to next year's conference which I'm sure will be bigger, better (If that's possible!) and with more speakers.
Contact me today for a free consultation 024 75098634 or click HERE
Adam Cowming
Beautiful Life Hypnotherapy