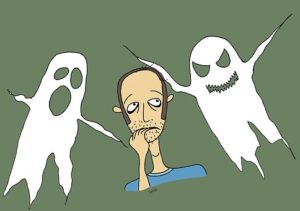 I'll explain Fears and Phobia's in a easy to understand way in. this blog
A fear or phobia is an intense fear of something that, in reality, poses little or no actual danger. Common phobias and fears include closed-in places, heights, highway driving, flying insects, snakes, and needles. However, we can develop phobias of virtually anything.
If you have a any fears or phobia's, you probably realize that your fear is unreasonable, yet you still can't control your feelings. Just thinking about the feared object or situation may make you anxious. And when you're actually exposed to the thing you fear, the terror can be automatic and overwhelming.
So what is really going on?
I will use spiders as an example simply because it's that time of year when I start to get more spider phobia phone calls as they start to come in for in colder months.
First people will see a spider (Visual) then they may have some internal dialog(NOOOO a massive spider) or external (Scream Aaaaaaaa) this in turn will trigger the feeling(Kinaesthetic) inside like fight, flight or freeze which in turn gets processed as fear by the person.  Normaly the reaction is out of proportion to the situation, for example has anyone you know ever been in an unprovoked attack by a spider or been bitten? Not many I bet !
The thing to really think about is that we are only born with 2 fears :-
· Fear of sudden loud noises
· Fear of falling
All other behaviors are learned either directly or indirectly, the amount of clients I see who say that a member of there family is scared of the same thing. They more than likely learned to react the way they do because they have seen for example their Mum screaming that there is spider in the house and to get it out. The client learnt how to respond to spiders because it what their Mum did when they were a small child and as a child they did not have any other resources to call up on.
All of this doesn't help a person of course who has the fear, so how can hypnotherapy help fears or phobia's?
There are lots of different methods all will aim to do the same job of helping the client to feel differently about the phobia or fear and allow the client to disassociate themselves from the feelings. The client will just not be as scared or as concerned by the fear or phobia as before. They may not want to ever hug or hold a spider but they will be able to cope with catching one and removing it or just leave it to get on with whatever spiders do on a good night out !
I use different methods depending on what I think is best for the client, sometimes the work is already done before I even use hypnosis but the hypnosis is still a great way to help the client to think differently about the fear and allow the mind to process it in a more logical way in the future and take on some new learnings to allow the client to make a change and have a more appropriate behaviour towards the problem.
If your phobia doesn't really impact your life that much, it's probably nothing to be concerned about. But if avoidance of the object, activity, or situation that triggers your phobia interferes with your normal functioning or keeps you from doing things you would otherwise enjoy, it's time to seek help with someone like myself.
Contact me HERE id you need any extra support.
Regards
Adam Cowming
Website  www.blhypnotherapy.co.uk