Body Language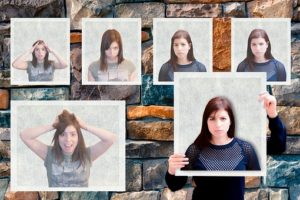 In this blog I'll explain Body Language in a simple to understand way.
This is a very important tool that all therapist and business people should be aware of or have some form of understanding of, you'd think!
Body language means communication with the movement or position of the human body. It can be conscious – or unconscious. It is important to   remember that, although body language does give you an additional channel of communication, which sometimes contradicts the spoken word, it should be interpreted with care. For one thing, it can be affected by particular habits of the speaker. To be able to read somebody is very interesting, but it can be complicated, so watch out!
As a therapist I hope I have a general understanding but I know that I don't know everything and it an area to which I'm looking into getting a higher level of understanding. I pride myself on my ability to be able to calibrate my client's conscious – or unconscious body language.
The eight primary elements of body language are your face, eyes, posture, gestures, voice, movement, physical appearance and touch.
Words (the literal meaning) account for 7% of the overall message
Tone of voice accounts for 38% of the overall message
Body Language accounts for 55% of the overall message
The figure 55% comes from some research that Albert Mehrabian undertook in 1971.
The 'Mehrabian formula' (7%/38%/55%) was established in situations where there was incongruence between words and expression.
That is, where the words did not match the facial expression: specifically in Mehrabian's research people tended to believe the expression they saw, not the words spoken.
Mehrabian's model is a seminal piece of work, and it's amazingly helpful in explaining the importance of careful and appropriate communications. Like any model, care must be exercised when transferring it to different situations. Use the basic findings and principles as a guide and an example – don't transfer the percentages, or make direct assumptions about degrees of effectiveness, to each and every communication situation.
This is now widely used in the field of selling, where sales personnel are trained to observe and read the body language of their potential customers. Sales personnel trained to read you can now utilize this skill to read the subliminal cue exhibited by the customers to close a deal. Consequently, many companies such as insurance companies, direct-selling companies and international car-showrooms now engage body language experts.
Body Language: What It Is & How To Read It
I help out some workshops and it's easy to tell who knows about body language and who doesn't and the difference just pointing out little things to people can make them look at people very differently, often these workshop are not about body language but as therapists it will always be part of what we do so it good to help and pass on the skills we have to others. Some of the people who attend are not therapist so are not used to using these skills but are normally very fast at picking some of the very basic tips they get.
If you need any help, coaching or therapy contact me HERE
Regards
Adam Cowming